Graylog Security SIEM
SEE A DEMO & ASK THE EXPERT
A Cybersecurity Platform for the Enterprise
SIEM Done Right.
Graylog Security is a scalable cybersecurity solution that combines Security Information and Event Management (SIEM), threat intelligence, and anomaly detection capabilities to help you easily investigate, identify, respond to, and report on cyber threats while continuously improving your security posture. See a 4-min demo. ➡️
Want to see more? Attend an upcoming demo & ask all your questions
If you'd like to see more of Graylog Security, check the upcoming dates/times below and register for a 30-minute live demo session to see Graylog in action and get all your questions answered by our technical expert.
GRAYLOG DEMO
In this demo you'll get:
Why Graylog Security SIEM

A 20-minute in-depth demo of Graylog Security

A 10-minute open Q&A to get answers to your specific questions
Register for an upcoming Graylog Security demo and see our powerful security analytics SIEM software in action.
Security Done Right.
Graylog Security blends SIEM (security information and event management), security analytics, & anomaly detection capabilities to provide IT security teams with a superior cybersecurity platform. Designed to overcome legacy SIEM challenges, Graylog Security makes security analysts' jobs easier and faster, providing them with the confidence, productivity, and expertise to mitigate risks caused by insider threats and credential-based attacks.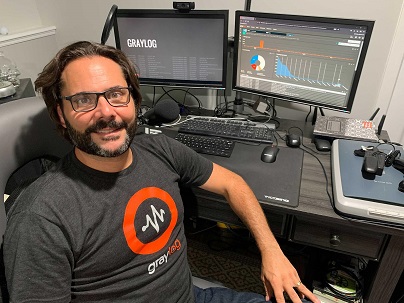 About the Expert
---
Ask your questions in the live Q&A
Jeff is a seasoned Graylog user from Ontario, Canada. He joined the Graylog team as the Senior Technical Marketing Manager. Jeff has extensive IT solutions deployment experience such as firewalls, networking, VOIP, physical security controls, etc.
You can also join the Graylog Community, where thousands of Graylog users share ideas and answer technical questions.
What Others Are Saying
"Best SIEM system and log aggregation tool available right now."
Infrastructure Analyst
"We need Graylog for day-to-day operations — to get true data on alerting, network thresholds, to know who is using our system and for what reasons."
Security Director
"We moved to Graylog for ease of managing log data. Great for generating reports to deliver on business security and audit requirements. So easy to moving logs from Microsoft and Linux devices."
Data Storage Engineer
Functionality you need without the complexity and cost of traditional SIEM solutions.
Graylog Security is a SIEM system that can handle all your security logs and helps you strengthen your cybersecurity posture. With a security information and event management software, you increase visibility into your environment and quickly identify important or suspicious patterns in machine data as you hunt for cyber threats.
The answers to your cybersecurity challenges reside in your event log data.
Graylog Security can help you make sense of it.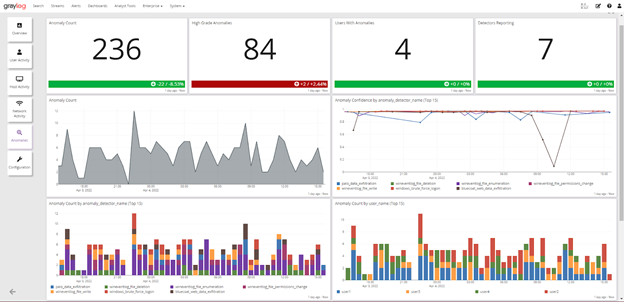 Graylog Security Includes:
• UEBA / Anomaly Detection
• Log Collector Distribution & Management
• Data Normalization, Correlation & Enrichment
• Security Event Creation & Alerting
• Data Visualization & Analytics
• Compliance Reporting
• Incident Investigation & Threat Hunting
• REST API + OOTB SOAR and Threat Intelligence Integrations
Log Management Software & SIEM Solution
Graylog is on a mission to make Log Management and SIEM (security information and event management) easier, faster, more affordable, and more effective. Purpose-built by practitioners with the practitioner in mind, Graylog has focused on log management done right from the beginning. Deployed in more than 50,000 installations worldwide, Graylog is an award-winning solution built for speed and scale in capturing, storing, and enabling real-time analysis of terabytes of machine data.
Want to learn more about SIEM technology and security analytics software?