See a Graylog Demo and Ask the Expert
Curious to see why over 100,000 users rely on Graylog every day to collect, analyze, search, and archive terabytes of log data?
Join a 30-min demo session to see Graylog centralized log management software solution in action and get all your questions answered.
In this 30-min demo session you'll get:
An overview of Graylog Operations (previously Graylog Enterprise).
A 20-minute in-depth demo of Graylog including indices/index sets, streams, pipeline rules, search & dashboards, high fidelity alerts, reports, audit log, and even archiving!
A 10-minute open Q&A to get answers to your specific questions.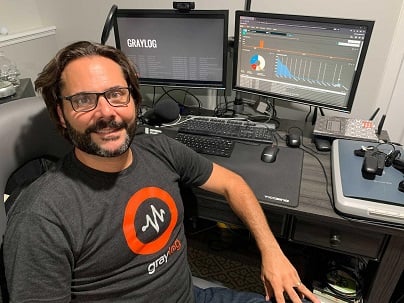 ABOUT THE EXPERT
Ask your questions in the live Q&A
Jeff is an seasoned Graylog user from Ontario, Canada . He joined the Graylog team as the Senior Technical Marketing Manager. Jeff has extensive IT solutions deployment experience such as firewalls, networking, VOIP, physical security controls, and many others.
Are you:
An IT SEC OPS looking for locked out users, users logged in from a country you don't operate in?
An IT manager and need to watch change control on your servers or infrastructure?
A software developer monitoring real-time application performance on your latest code spin?
An IT director requiring metrics on all the above information for IT compliance?
Attend this 30-minute demo to see how Graylog works.
WHAT OTHERS ARE SAYING
"Passing the logs from Microsoft and Linux devices was incredibly easy which made deployment a breeze. Since implementation we have found it to be absolutely invaluable." - Infrastructure Analyst

"We moved to Graylog for ease of managing log data. Great for generating reports to deliver on business security and audit requirements. So easy to moving logs from Microsoft and Linux devices." - Data Storage Engineer
SEARCH TERABYTES OF LOG MESSAGES IN SECONDS
LOG MANAGEMENT SOFTWARE FOR IT & CYBERSECURITY PROFESSIONALS
The fastest and easiest way to monitor & analyze log data from any source
Graylog is a centralized log management software (CLM) that seamlessly collects, monitors, enhances, stores, and analyzes log data. Logs are fundamental to any IT operations or security program, and placing them all in a single location greatly simplifies their use. Graylog has a robust architecture that gives you the ability to perform full-text search queries across millions of log messages in milliseconds.
Unlike competing products, there's no need to learn a custom query language or submit pages of queries to an API to find the data you are looking for.
What makes Graylog unique?
Comprehensive log management software
Horizontally scale to meet any size workload from a gigabyte to petabytes per day. Built in fault tolerance enables distributed and load-balanced operations to prevent data loss. Our comprehensive procession algorithm to parse logs and search through virtually unlimited data.
Tremendous value
There are many facets to price--licensing, processing, storage, and system maintenance--and Graylog is more cost-effective than others across all of them. Graylog Operations is free up to 2 GB/day, and beyond that ingest rate, typically ⅓ to ½ the price of major competitors. And that lower price includes collection of all data across your environment. Throw in our top-notch customer experience from initial conversations to purchase to ongoing technical support and product enhancements, and your value skyrockets.
Easy exploration
Graylog log monitoring software lets you analyze log data without having to know exactly what you are looking for before querying. Graylog expands and reveals more information as you go, delving deeper into the search results to explore further to find the right answers.

Incredible flexibility
Graylog log management software is built to open standards for connectivity and interoperability for seamless collection, transfer, storage, and analysis of log data. We now centrally manage any machine data collector—ours, custom, or 3rd party vendor—from the admin console, including stopping or starting any whitelisted system processes. Not only that, we can collect other structured data as well, such as DNS lookups from the wire.

Ridiculous speed
When working with enterprise-scale data, every second--or millisecond--matters. The longer it takes to analyze data coming in, the longer it takes to find and resolve issues. Graylog is a log analyzer that lets you search and investigate multiple issues at once with multi-threaded data retrieval, saving considerable time and delivering results much faster.
Value for everyone
Make repetitive tasks and routine investigations efficient, ensure consistency, and empower less technical team members through dashboards and saved searches.
Graylog delivers the best data log collection, log monitoring, log storage, log enrichment, and log analysis. See for yourself if it is the right log management software solution for your logging needs. Register for a 30-min in-depth demo of Graylog Operations and get all your questions answered.