SEE A GRAYLOG DEMO
SIEM and Log Management Software
Register for an in-depth
20-minute demo

and get:

Overview of Graylog Security

Overview of Graylog Operations

Open Q&A with Technical Expert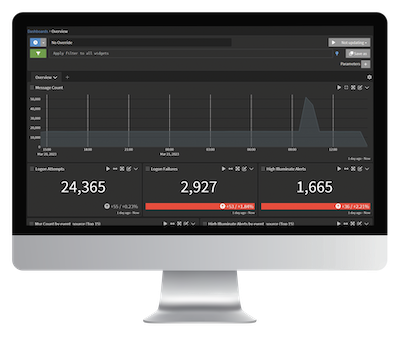 SIEM & Log Management Done Right.
Graylog Security is a cybersecurity solution that combines SIEM, threat intelligence, security analytics, and anomaly detection capabilities to help security professionals identify, research, and respond to threats.
See 4-min tour of Graylog Security ⬇️
Graylog Operations is a comprehensive log management and analysis solution that helps IT and DevOps professionals centralize, search, and analyze event log data to get to the root cause of issues faster.
See 4-min tour of Graylog Operations ⬇️
What Others Are Saying
"The most powerful and flexible SIEM and centralized log management system I know"
- T-IN in the Healthcare Industry
"A scalable and affordable security analytics platform"
- Consultant in the IT Services Industry
"Best SIEM and log aggregation tool available right now: The amount of flexibility and insight into logs and operations provided by it are astounding."
- System Administrator in the IT Services Industry
About Graylog
---
Graylog is a game-changing cybersecurity platform that offers robust ways to protect your organization against cyber threats. Unlike complex and costly traditional SIEMs, Graylog is an easy, comprehensive, and cost-effective solution. Providing teams with tools that help them quickly detect and respond to issues, Graylog allows IT teams to deliver better performance and reliability while streamlining operations.